PRIVATEERS! PROMOTION TOOL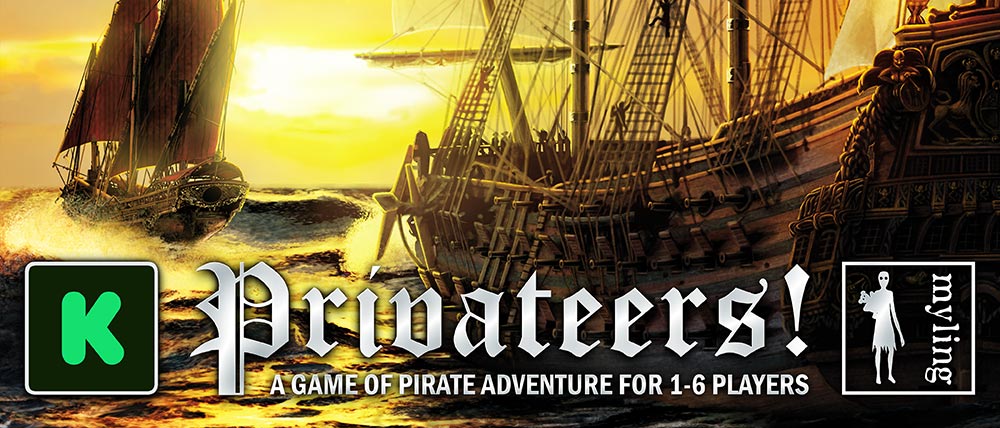 Welcome to the Privateers! Promotion Tool. You can use this to tell your friends about the Privateers! Kickstarter and get a few nice bonus items as a token of gratitude from us at Myling Games. You get 1 Promo Point per action you take to spread the word. The number of promopoints determines your rewards, as seen in the list below.
0-2 Promo Points: You will get no bonus items
3-9 Promo Points: You will get Promo-set A as a Kickstarter bonus
10+ Promo Points: You will get Promo-set A and Promo-set B as Kickstarter bonuses
So, state your e-mail address, tell your friends using the methods below and get a reward!
E-Mail Address:
You must enter an email address to get the promo sets. Make sure you use the same email address every time, and that you give us the same address in the Kickstarter survey after the campaign.
Share on Facebook

Share the Kickstarter page with your friends

Post on Twitter

Make your followers interested in Privateers!

Write or Talk About It

Write or talk about the Kickstarter and report to us

E-mail Your Friends

Write an e-mail message and send to five or more friends
Disclaimer: You will only get the promotional products and bonuses, like Promo-set A and Promo-set B, if Privateers! gets funded through Kickstarter and if you have pledged at least $99. The reward list may be updated with extra rewards worth more Promo Points during the Kickstarter campaign. You can pay for the promotion rewards if you do not like to, or can, use this tool.

Supported Browsers: E-mail (E-mail) and link reporting (Write) should work in any reasonably new browser. Facebook sharing (Share) and twitter posts (Tweet) are only supported in Edge 12+, Firefox 20+, Chrome 31+, Safari 8+, Opera 31+, Safari for iOS 7.1+, Android 4.1+ Browser, Opera Mini 8+ and similar. The functions will not work in Internet Explorer. If you have no choice but to use Explorer, you can report a tweet as a blog message (Write) by linking to the tweet and report a facebook message by posting it as a public message and linking directly to the message.

Cookies: This page uses cookies saved on your computer to automatically fill in the e-mail address you used the last time. Turn off cookies if you don't want this. Just don't forget to enter your e-mail address every time if cookies are turned off.

More Information: The crowdfunding page and more information about the game can be found here: http://www.privateers.xyz

Support and Contact: Support questions and can be sent through facebook or through e-mail: info@mylingspel.se